STEP LINE

Simple and smart.
The one and only residence perfectly matching your lifestyle.
Different people need different things from their home. There can be thousands of different preferences, but we consider "compatibility with lifestyle" more important than piling on multiple ideas. This thought underlies the creation of STEP LINE, HOP's new brand. STEP LINE sincerely, uncompromisingly pursues "Simple & Smart" in its design and concept. While avoiding extravagance, a home should still embody dreams and ideals – the brand proposes a future standard ideal for such needs.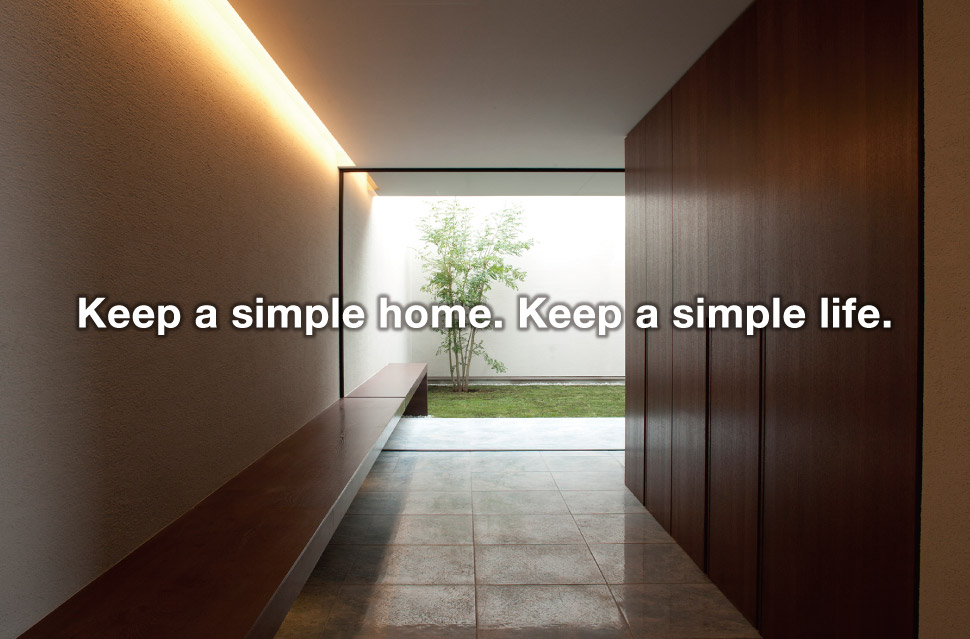 Embracing family's lifecycle
Fusing contemporary inspirations into Japan's traditional architectural beauty and techniques, creating a house through innovative ideas and chic design – since our foundation in 1984, we have maintained a constant attitude towards homebuilding and refined our sensitivity by designing a number of conceptual residences.
STEP LINE is the crystallization of our designing journey and the embodiment of our point of origin. Some things are only visible through simplicity. Some things are only felt through simplicity. A house, carefully crafted with authentic materials, matures as it ages. A house, taken care of and loved by its residents for many years, becomes equivalent to an exquisite antique…
The house gently embraces its family and their life and closely caters to their changing needs throughout their lifecycle, while never losing the fresh sensation it offered when it was brand new. STEP LINE is a proposal to create the one and only residence together with its residents.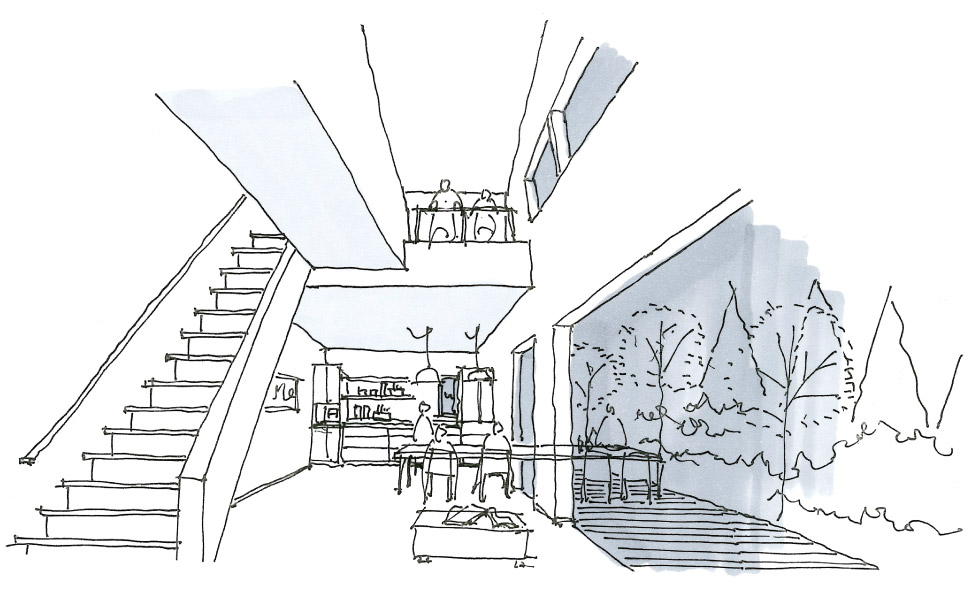 Texture and warmth of the authentic materials
The warmth and texture of natural wood is something no other substitutes can achieve. HOP treasures the inherent quality of natural wood in its pursuit of "authenticity", another point of origin. To fulfill this commitment, we have equipped ourselves with a keen eye for good materials and skills built on tradition to maximize the materials' value and minimize waste. We incorporate various ingenious ideas in the design and select the best suited materials. From pillars, beams, and other structural members to fixture, joineries, and furniture, we extensively use natural wood and complete them at our plant. Harmony and integrity characterize the space inside HOP residences. Based on our accumulated skills acquired through many years of homebuilding and the designing expertise refined through uncompromising effort tuned into the latest trends, we present houses where residents can simply appreciate its brilliance. STEP LINE, our customized residence brand, was born to cater to the clients' wish to live simply and naturally as they like, embraced by spiritual comfort.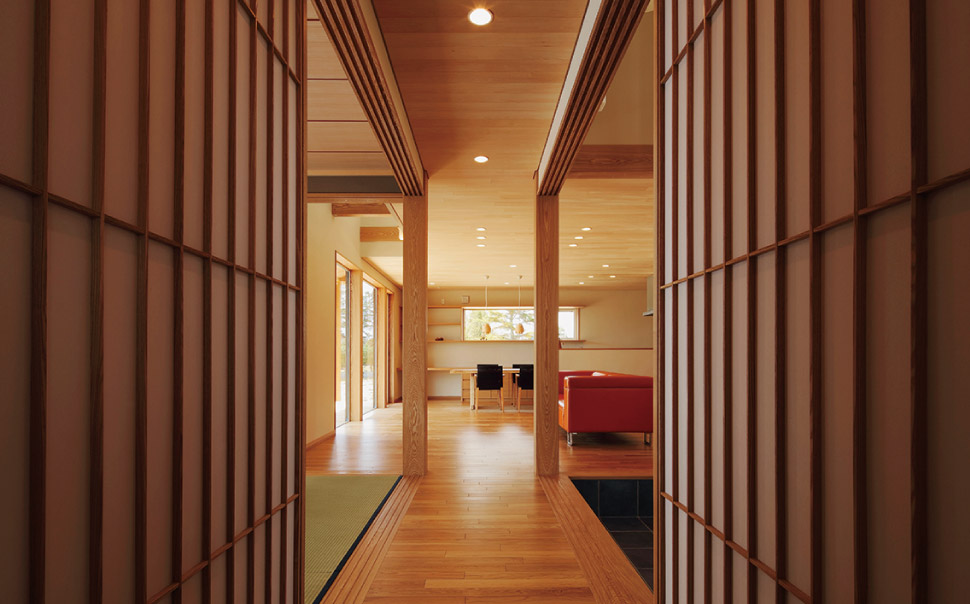 Taking account of connection with the neighborhood
From a quiet suburb to a narrow space in a bustling urban area, we take on any kind of locational conditions and pursue the shape of a home that optimizes the location by understanding its characteristics. STEP LINE is also about site specificity. Owners would select locations because they are deeply attached to the particular place or fall in love with the streetscape or the convenience the location offers. Instead of just focusing on the living space, we take the surrounding environment into account as a design element and add a depth and meaningfulness to the private life within the building by consciously creating connections with the external space. In our belief, this is what the true homebuilding is about. A streetscape consists of a line of houses. Unlike an artwork, homes are not good enough if their designs are simply sophisticated.
It has to establish a solid connection with the land, blend in with the landscape while offering the sense of comfort, and become part of the scenery. This is what we always commit ourselves to achieving as a responsible homebuilder in our effort to build each house with a soul.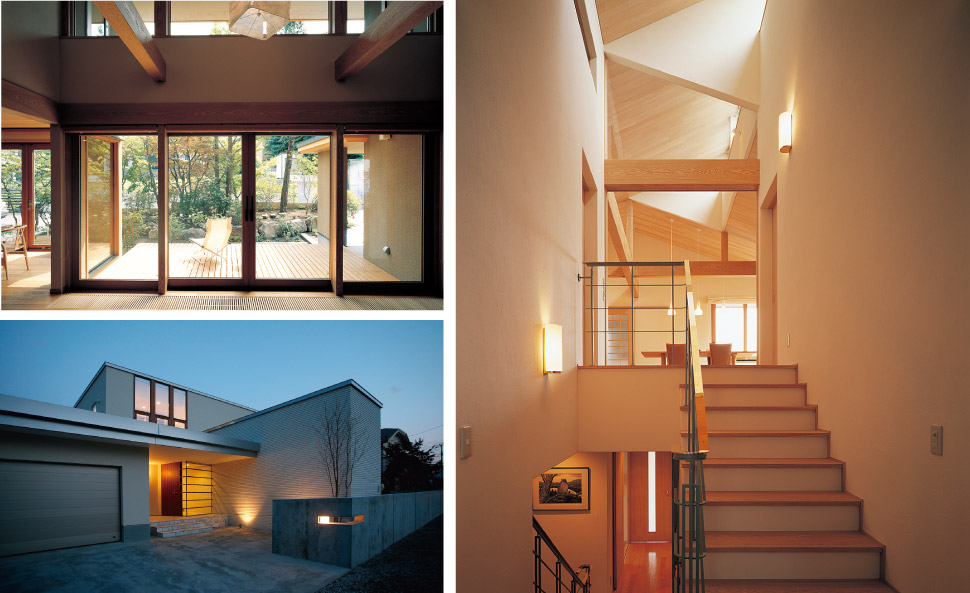 Help client's dream come true at reasonable price
There are myriad first-class or high-end goods, ranging from materials for interior and finishing to furniture and equipment. To select only the best in the market to achieve your dream home is a direction you can choose, and HOP has responded to these requirements many times. Then, is it entirely impossible to build an ideal home if such requirements are not met? Not necessarily, HOP thinks. A home is not just a thing – it is a space where a family live together. Do you want a space that resonates with your sensitivity, matches your lifestyle, ensures a healthy and comfortable life, or bring smiles to your family's face? By closely examining what kind of environment truly suits the family, the true needs will naturally reveal themselves. STEP LINE's philosophy is to help our clients' dream come true at a reasonable price by giving shapes to these concepts. The true luxury lies in the process of homebuilding, and this is the luxury we want to share with our clients.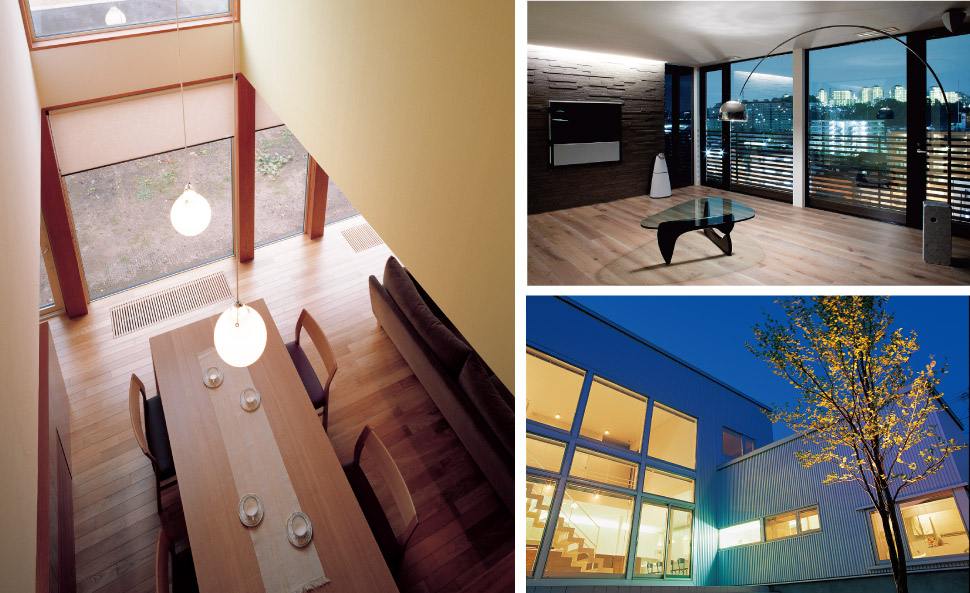 A collection of STEP LINE design plans is available for view.
Homebuilding is about giving a shape to a lifestyle. While it is easy to imagine various scenes of everyday life, it is a challenge to come up with a solid image of a home designed for these purposes. Therefore, we have prepared design plans catering to a wide range of lifestyles for you to come up with your own STEP LINE home design.
Here is a house of one of the STEP LINE owners.

A home weaving a family story of happiness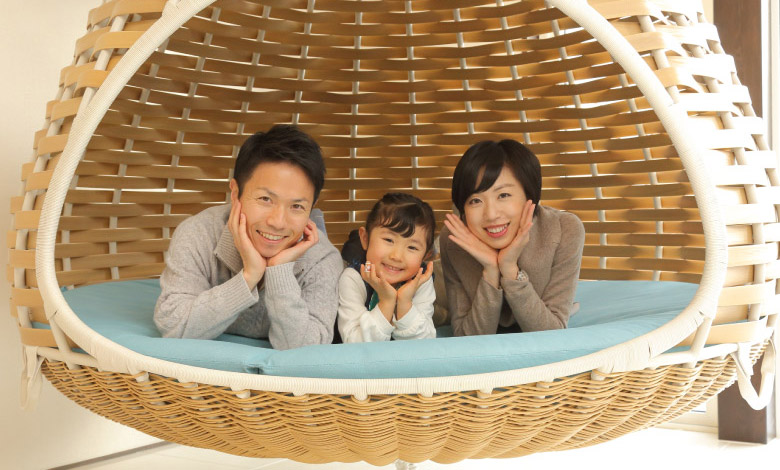 "Taking advantages of the northland's changing seasonal beauties, the home enables the family to enjoy a relaxed life even when the snow locks them in during winter. While functioning as the privacy protection and a shield against cold, the outer wall incorporates curved silhouettes in several places to bring a gentle atmosphere to the entire house. The inner layout, designed to ensure indoor convenience and security, is characterized by practicality, which is the main feature of the property and the owner's highest priority."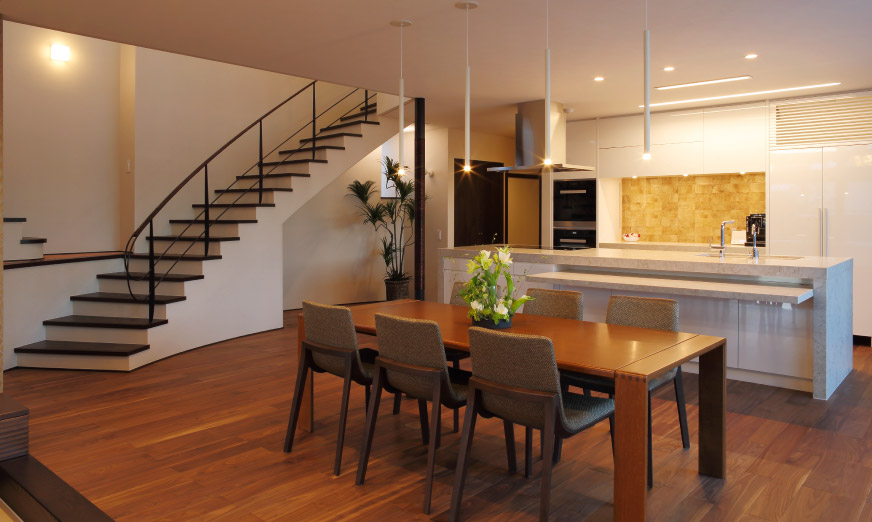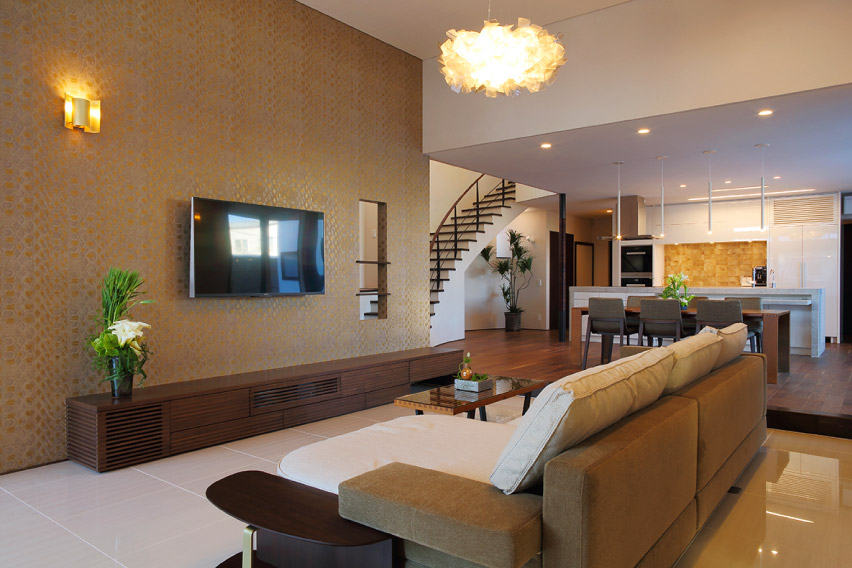 The wide and open sunroom functions as a greenhouse, storing the light and the warmth of the sun and keeping the living room mildly warm even during the harsh cold winter. The laundry and housekeeping rooms are arranged next to the sunroom to ensure laundry to dry thoroughly and naturally and maximize the comfort of housekeeping chores. The ray of low rising sun in the winter indirectly reaches deep into the living room, creating a gentle gradation of light mingled with the reflection from the snow.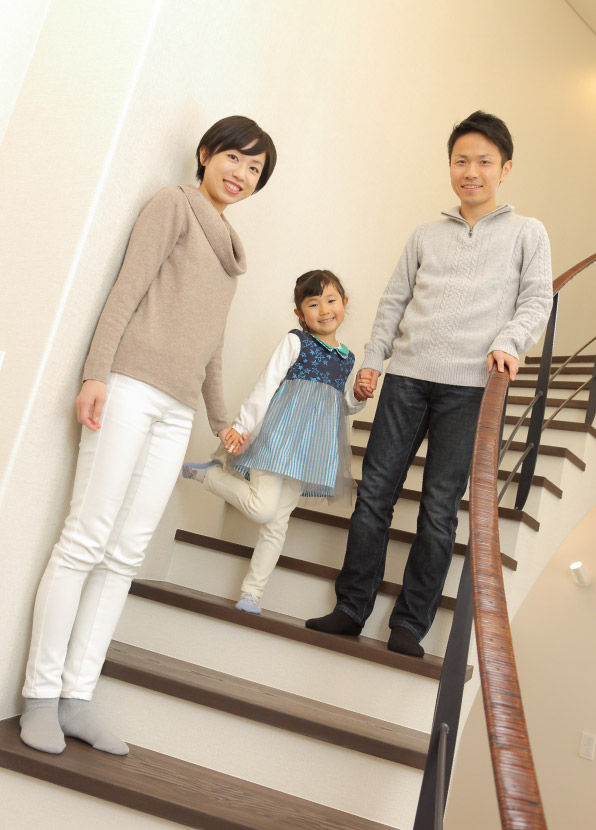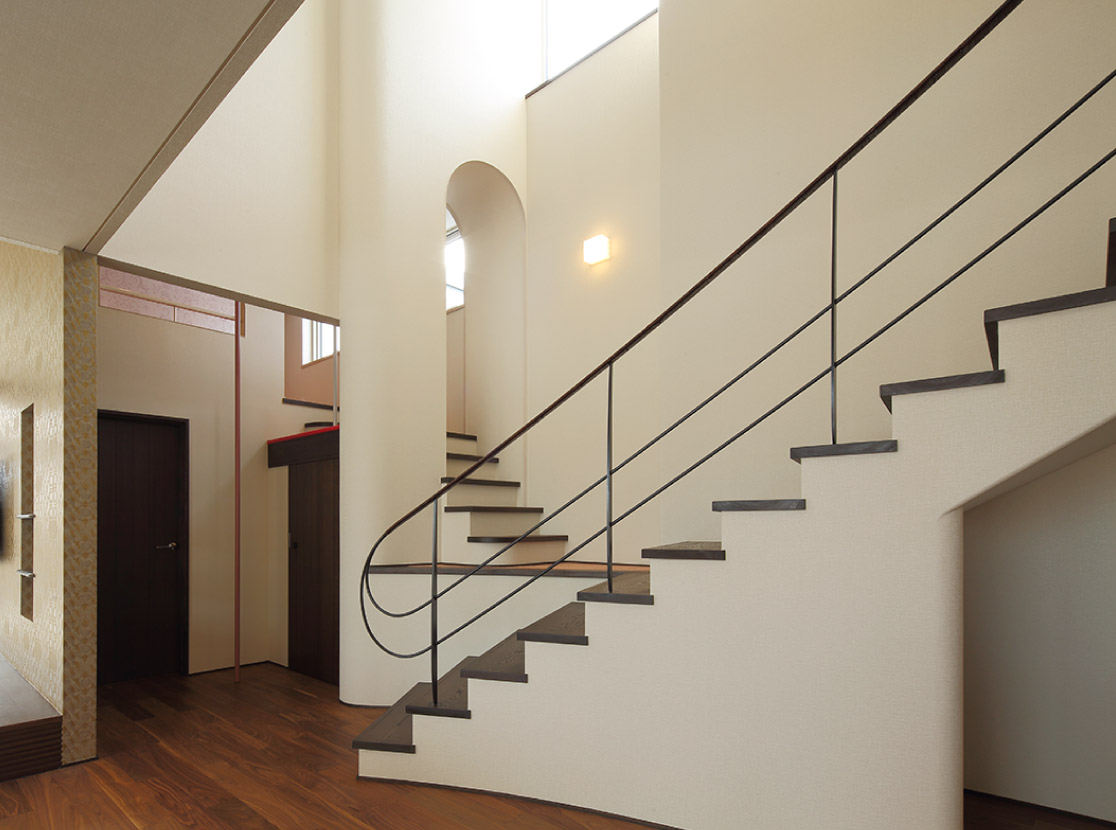 The curved staircase is split into two directions in the middle, offering several accesses to the rooms on the second floor. The middle of the staircase features a 2m-high "sliding pole", serving as a thrilling playground gimmick for children in a normal time and an evacuation tool during emergency. With the 1.4m-high ceiling, the nursery creates a liberating atmosphere. The counter in front of the kitchen also offers additional space for children to study.